Bernard Todd Fitter, French Horn
Todd joined School House Symphony in 1984. He received a Bachelor of Music in French Horn Performance from Manhattan School of Music and a Master of Music in French Horn Performance from the University of Cincinnati, College-Conservatory of Music. Todd's accomplished career playing french horn includes his performances with these local and regional arts organizations: He currently plays with the Dayton Philharmonic (Dayton, OH), 3rd Chair since 1984; Hamilton Fairfield Symphony Orchestra (Hamilton, OH), Principal since 1980; Clermont Philharmonic Orchestra (Clermont, OH), Principal since 1997; Dayton Philharmonic Concert Band (Dayton, OH), Principal since 1984; Hamilton Concert Band (Hamilton, OH), Principal since 1980; Dayton Philharmonic Opera Orchestra (Dayton, OH), 3rd Chair since 1984; Blue Ash Montgomery Symphony Orchestra (Blue Ash, OH), Principal and 3rd Chair since 2005; Quintessence Woodwind Quintet (Cincinnati, OH), since 1980; and has also performed with the Simon Winds (Cincinnati, OH), Queen City Brass (Cincinnati, OH), Carillon Brass Quintet (Dayton, OH).
Todd is also an accomplished soloist and instructor. He has performed concertos with the Hamilton Farifield Symphony Orchestra, The Clermont Philharmonic and the Blue Ash Montgomery Symphony Orchestra. His notable performances with world renowned artists include Yo Yo Ma, Yitzhak Perlman, Emanuel Ax, James Galway, Renee Fleming, Tony Bennett, Rod Stewart and Sheena Easton. Todd has taught private students from the School for Creative and Performing Arts (Cincinnati, OH), Princeton High School (Cincinnati, OH), and has served as adjunct professor of french horn at Cedarville University.
Todd resides in Loveland with his wife Sharon and he enjoys keeping up with his three children.
Jin Hand, Flute
Jin Hand joined School House Symphony in 2016. She is an award-winning soloist, chamber and orchestral player and an active teacher. She has performed with the ASU Symphony Orchestra, ASU Lyric Opera Theatre, and the Copperstar Repertory Company as a principal flutist.
She won second prize in the Alexander Buono International Competition and was invited to play at the Kosciuszko Foundation Auditorium in New York City. As the winner of the Concert of Soloists Concerto Competition, Jin was a featured soloist with the Arizona State University Symphony Orchestra.
Jin holds her Bachelor of Music from Indiana University, Master of Music from Arizona State University, and is currently completing the final requirements for the Doctorate of Music from Arizona State University, where she served as a Faculty Associate during her doctoral studies. She was invited as a Guest Director for the Phoenix Youth Symphony Orchestra and the ASU Community Flute Ensemble.
Jin currently resides in the Cincinnati metropolitan area and is active as a freelance performer, playing on occasion with orchestras in the area, including the Clermont Philharmonic and Middletown Symphony Orchestra, and as a flute instructor, teaching private lessons and serving as a guest clinician at local schools.
Karen McDowell, Violin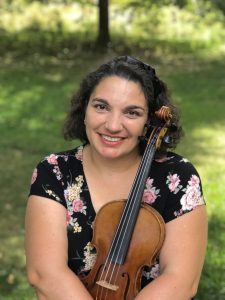 Karen begged to learn to learn to play the violin when she saw her favorite cousin and aunt doing it at their family concerts during holidays. Her parents let her start just before her 4th birthday, at which point she proceeded to have temper tantrums at every (Suzuki) class that term. Her next teacher, a wise 16-year old, turned everything around, however…and she was a "violinist" from that point on.
She has performed in North America, Europe and Asia and has taught orchestra and private lessons in the US and Singapore. Her favorite orchestral job was in a castle halfway up a mountain in Heidelberg, Germany one summer where her violist friend taught her to cook with fresh food from the market. She finds that music cuts through any other differences and makes her feel a part of her current home, no matter where she is.
After long admiring what Schoolhouse brings to students in the Cincinnati area, she is thrilled to now be a part of it–she loves how the group establishes an ongoing relationship with students and builds upon each previous visit, always adapting to each school's unique dynamic.
Olivia Eunjung Park, Cello
Olivia Eunjung Park first began her life in music at the age of 4 on the piano in Seoul, South Korea. When she reached the age of 9, she discovered the beauty of the cello and soon after started her first Suzuki cello lessons. Four short years later at age 13, she debuted as a soloist with the Seoul National Symphony Orchestra performing the Saint-Saens cello concerto in KBS Hall. She went on to study cello at the SungShin Women's University, where she entered and graduated with highest honors and was the 2006 Concerto Competition winner, performing the Elgar cello concerto at Seoul Arts Center. In 2008, her love of cello brought her to the United States where she completed her Masters in Cello Performance at the College-Conservatory of Music (CCM) studying under Yehuda Hanani. During her studies she expanded her passion for music, branching out to choral conducting and the pedagogical process. She is actively undergoing Suzuki instructor training and has completed the doctoral coursework at CCM for cello performance.
During her time in America, Ms. Park has appeared as a soloist at many music festivals including the High Peaks Music Festival and the Bowdoin International Music Festival where she served as a performing assistant. Also, she has been actively performing in the Cincinnati area with her chamber ensemble and orchestras including Hamilton-Fairfield Orchestra, and the Kentucky Symphony Orchestra.
Glenn Proffit, Bass Trombone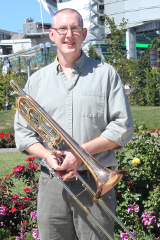 Glenn joined School House Symphony in 1995 and plays both trombone and tuba in the ensemble. He received a BA, Music from Northern Illinois University (Dekalb, IL), and a MA, Music from the New England Conservatory of Music (Boston, MA). He has performed with these local, regional and national arts organizations:
Boston Symphony Orchestra (Boston, MA)
Cincinnati Ballet
Chicago Civic Symphony (Chicago, IL)
Cincinnati Symphony Orchestra (Cincinnati, OH)
Dayton Philharmonic (Dayton, OH)
North Carolina Symphony (Raleigh, NC)
West Virginia Symphony
Glenn maintains a private teaching studio in West Chester, teaching trombone, tuba, and euphonium/baritone. Glenn is also an active triathlete, a first degree black belt in Japanese Karate-Do, and an avid gardener.
Laura Sabo, Clarinet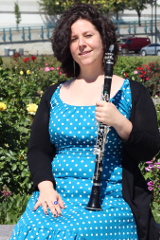 Laura joined the ensemble in 2013. She is a classically trained musician who has crossed to the dark side of improvised music and never wants to go back, except occasionally when she gets to perform with wonderful ensembles such as the West Virginia Symhony Orchestra, the Richmond Symphony Orchestra, and Concert:Nova. She fell in love with music as a child when she would sneak into the basement after dinner to spend hours listening to old records. Her impatience chose saxophone as her first instrument in fourth grade simply because the line for flute was too long. Although she was reduced to tears when her private lesson teacher forced her to switch to clarinet, it has proven a fateful match.
Her teachers have included members of the Cleveland Orchestra and Cincinnati Symphony Orchestra. She has received degrees in music from the Ohio State University, Cleveland Institute of Music, and recently completed her doctorate from the College Conservatory of Music at UC. Still, she is consistently lured away from the classical world by the expressive, soulful wailing made by gypsy and folk clarinetists of Turkey and Eastern Europe, and finds her truest musical self playing original gypsy jazz with the Marmalade Brigade, Cajun and Dixieland with Lagniappe, trance/belly dance with Mayan Ruins, bass clarinet with Strange Creature, and early music with the Noyse Merchants. She maintains a changeling/amphibious lifestyle between the airy heights of a trained classical musician and the watery depths of expressive improvisation.
She is also the organizer/impresario for Classical Revolution Cincinnati and teaches private lessons at the Cincinnati Music Academy and all around the Cincinnati area.
---
What teachers have to say about SHS …
Terrific musicians. Very knowledgeable on core content, kind to the students and play anywhere from a gymnasium to a small classroom. We are delighted to have SHS come to our school. Each year, both staff and students look forward to these performances.